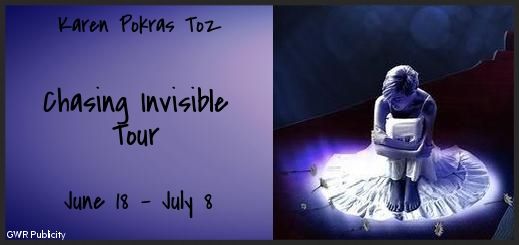 From award winning children's author Karen Pokras Toz comes the contemporary adult novel
Could you handle life in the spotlight?
Julia Alexander is a quiet girl from a small town. Content to spend her days with her small group of friends and a pile of books, Julia thinks her future is set. When she unexpectedly meets Chase, a fellow college student and budding musician, she is unaware of just how drastically things are about to change.
Suddenly thrown into the limelight, her life is no longer her own. Relentlessly followed by the paparazzi, Julia is forced to make tough decisions about fame, love, family, and relationships. But just how much will Julia have to sacrifice to become invisible...
Buy at Amazon
Review
Chasing Invisible is an interesting story. Chase and Julia are in love, the romance between the two is slow moving but believable. What happens next is something most people seem to forget about, the price of fame. Chase is so involved in his career that he falls prey to everything the music industry is known for. Meanwhile Julia is trying to have her own career and the paparazzi seem to just be everywhere and into everything.
The book itself is a slow but steady read. There were points that for me dragged on just way too much but all in all the overall story itself was a good one. The characters were believable and well written. The dialogue was at times boring and at times very entertaining and interesting.
For me I give this book 3.5 stars. Now that does not mean I didn't enjoy it, it just means that I wouldn't re-read the book. I liked the story, I liked the plot development, and while I hated the ending, I actually expected it. All in all,its a very good story and I do recommended the book for someone who enjoys the slower paced stories.
Details/Disclaimers: I received this book for my honest review. The free book held no determination on my final review.